Coming Soon
Line Up
The event
DJ Wave Kid zelebriert seinen 40 sten Geburtstag.
Treu nach dem LOUD & PROUD wird am 08. Februar 2020
bis in die frühen Morgenstunden im Club GO IN Obergünzburg gefeiert.
Mit im Gepäck hat er jede Menge DJs aus Deutschland und der Schweiz die er aus seiner vergangenen 22 jährigen Laufbahn als DJs kennengelernt hat.
Dazu gehört DJ Daydreamer aka Stefan Malitzig (THP Records) der mit seinem "Pumpin Techno Beats" die Menge zum Toben bringen wird. Außerdem werden uns Local Hero TRAM von der Sick'n'raw Crew (sicknrawmusic.de), DJ Galaxie (Blackhole Rec.), der Schweizer DJ und Produzent SebDell (Armada Rec.), Unikum (Unikum-Musik.com) mit seinem progressiven Warm Up Set sowie der Gastgeber persönlich
DJ Wave Kid (Nature One) in Ekstase tanzen lassen.
Dazu gibt es wie immer jede Menge Überraschungen und Specials…
unter anderem eine Lasershow und Special Deco by THP Management sowie einen Welcomedrink und jede Menge Givaways. Also seid gespannt… be a part of a special night.
LINE UP:
D A Y D R E A M E R aka Stefan Malitzig
[THP Records, Ruhr In Love, Nature One]
Homepage: www.djdaydreamer.de
D J G A L A X I E
[Street Parade, Trance.Mission, Hit: Here I Am]
Homepage: www.djgalaxie.de
T R A M
[Sick'n'raw]
Homepage: www.sicknrawmusic.de
S E B D E L L
[Armada Recordeings, Swiss Producer]
Homepage: www.cea-music.com
U N I K U M
[ Havanna Club Weingarten, MTD Munderkingen]
Homepage: www.unikum-musik.com
W A V E K I D
[Nature One, Airbeat One, BIRTHDAY KID]
Homepage: www.wavekid.de
---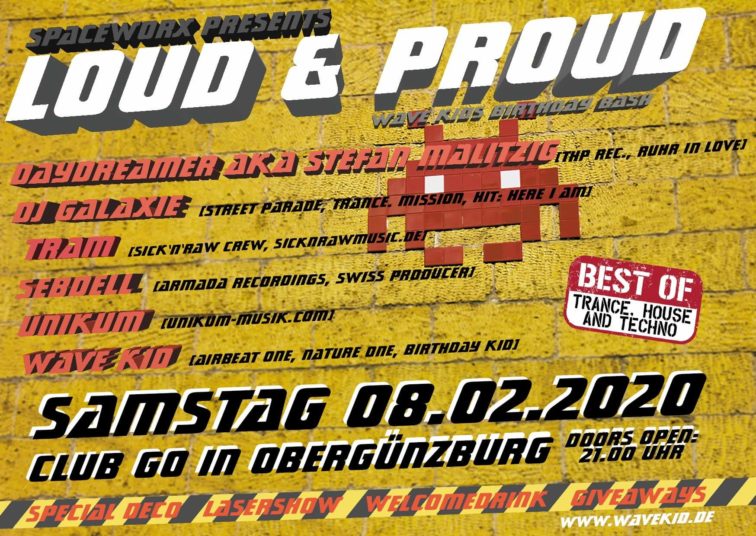 ---